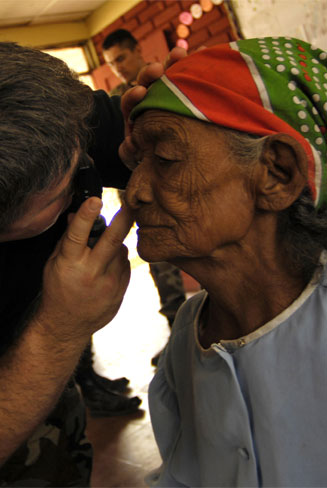 "A wonderful experience in Nicaragua." Part of me is reluctant to sit down and write my thoughts and observations because it is so hard to put in to words, but I am also concerned if I don't do it now time will pass and I will never write this email.
I don't expect to find the words. I am not sure the words are there. But I can simply say I had a wonderful experience in Nicaragua.
I will start with Dr. Duerkson. I learned SO MUCH from him. I can't imagine a better fit as far as his teaching style. He was unbelievably patient and explained things in a way I was able to clearly understand. I still have a LONG way to go in terms of mastering the MSICS technique but now I feel I HAVE the fundamental building blocks that will allow me to master the technique. I learned a great deal about each step of the process on this trip, now I feel I have an excellent foundation. Dr. Duerkson's instruction will help me become proficient in the technique while still optimizing patient safety and outcomes. The good work he has done for patients extends far beyond the sight restoring surgery by his own hands as he expertly helps transfer skills to those he mentors. "If you give a man a fish you feed him for a day. If you teach a man to fish…

In addition, he always maintained (at least externally) an even demeanor in the OR no matter what situation arose and was readily available whenever any of us needed help, usually just helping us work though the situation ourselves. Finally, he was also always pleasant to be around in and out of the OR with a great sense of humor that I think put everyone at ease. I consider it a great privilege to have worked with him.
I am very happy to have been a part of this "A-team". And "A-team" is not just a name. This truly was a great group!! I asked Robyn if it was always like this, as I am very impressed with VOI. As you know, I roomed with Robyn, who obviously is an outstanding young woman. I wish her well in her future missions..and her upcoming marathon. I have a feeling our paths will cross again because honestly, I can hardly wait to go on another mission.
I sincerely enjoyed each and every member of this group. Gary and Randy added so much and put me at ease from the first day. We all worked hard, but also had a great deal of fun.
In addition, I want to thank Gustavo for his hard work on the part of the Lions Club in Nicaragua. It seemed he always "appeared" when things needed to be done. I appreciated the transportation to the clinic on the "off day" for travel, his making sure I received my luggage, and the beautiful hand-made gift I now have on display in my office.
Thank you for the close communication that helped make this trip possible.
Sincerely,
Dianna Bordewick