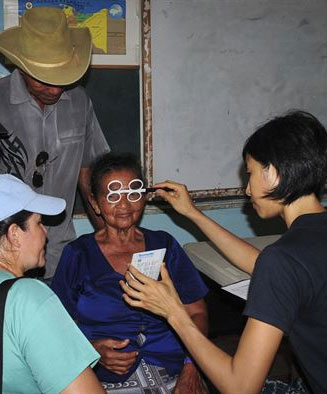 VOI returns to Granada to Cure Blindness Caused by Cataracts

The Vision Outreach team was invited back to Granada, Nicaragua, in mid-October this year…..the purpose was twofold —  VOI was asked to join with the Granada Lions Club  in celebration of its 50th anniversary as a benefactor for those poor that suffered the adverse affects of impaired vision.  VOI was also asked to cure blindness caused by cataracts.
In about 3 weeks time VOI assembled a team of doctors, medical professionals and support staff from Paraguay, Hawaii, South Carolina, New Jersey and southwest Michigan. We were also asked to share our God given gifts, skills & talents  in order to give the gift of sight to the blind poor….. the team delivered.  We performed 103 cataract removal surgeries in a week's time.
At the end of the week and the night before VOI returned home we were the guests of Gustavo Lopez and friends in one of their homes in Granada.  The warmth and graciousness of our hosts was that never to be forgotten….. God is everywhere.
Jim Vlasicak